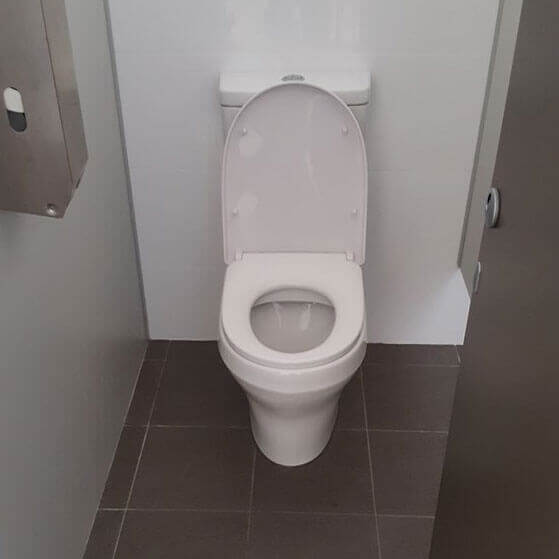 There are several types of Toilet Suites available for purchase and installation such as:
Linked Toilet Suites:
The traditional Australian Toilet Suite commonly found in older homes and outhouses.
They have an adjustable set-out option that suits most 100mm drain pipe locations in existing Bathrooms, Powder rooms and Outhouses.
They have a flush pipe connection between cistern and the toilet bowl (Pan)
Highly recommended for practicality, cost and swap overs.
Close Coupled Toilet Suites:
This Toilet Suite has the cistern bolted directly onto the Toilet Bowl.
The set-out is not very flexible and the Suite is not normally suitable for a Cosmetic Makeover but rather a Complete Renovation or New home.
Back To Wall Toilet Suites:
The Cistern bolts directly onto the toilet bowl and both cistern and bowl finish flush with the rear wall.
May be suitable for a swap over (Cosmetic Makeover) but more suitable for Renovations or new homes.
Floor Or Wall Hung Toilet With Concealed Cistern:
Can be timely and costly for Installation and Repairs.
Suitable for complete Plumbing Renovations and New Homes.
Contact Bingham Plumbing and Gas on 0439 963 066 Or email bingham.plumbing@bigpond.com to discuss Toilet Suite options to suit your budget.
Best Plumbers Perth is an all too common remark from our customers.